For artists accepted to the Convergence 2018 residency, it may be helpful to read through this general sketch of the CONVERGENCE Schedule and Program details. As always, schedules are subject to change so hold this lightly with us, but it will give you a good idea of what your days will look like during the residency.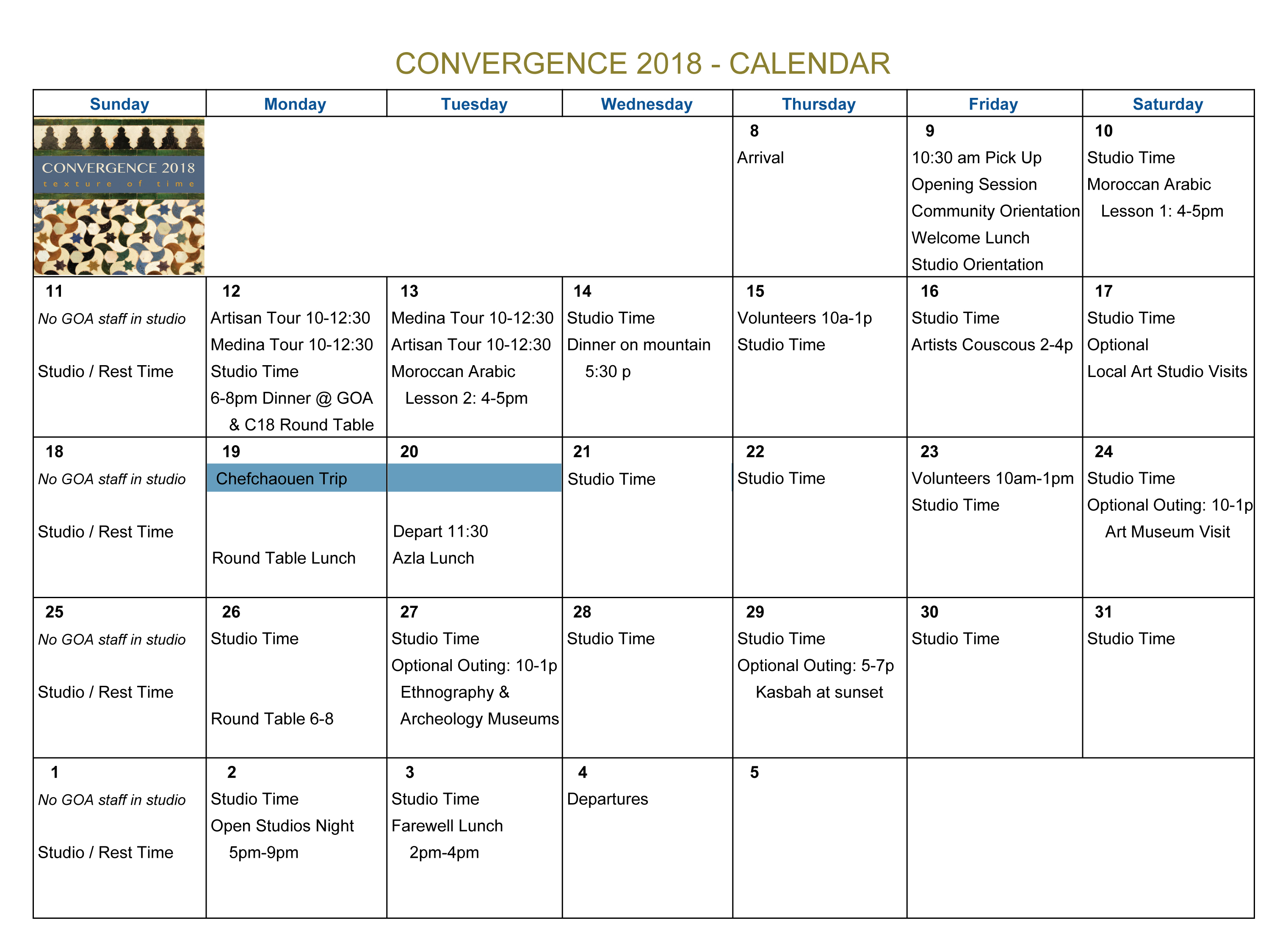 SCHEDULE
| | | |
| --- | --- | --- |
| Thursday | 8-Mar | ARRIVAL DAY - Airport pick-ups and Rest |
| Friday | 9-Mar | Opening Session / Orientation / Welcome Lunch |
| Saturday | 10-Mar | Studio Time / Moroccan Arabic Lesson 1 |
| Sunday | 11-Mar | Studios open, no staff - Rest and Studio Time |
| Monday | 12-Mar | Artisan Tour / Round Table Lunch |
| Tuesday | 13-Mar | Medina Tour / Moroccan Arabic Lesson 2 |
| Wednesday | 14-Mar | Studio Time / Dinner on mountain above the city |
| Thursday | 15-Mar | Volunteers available / Studio Time |
| Friday | 16-Mar | Studio Time / Artists Couscous Lunch |
| Saturday | 17-Mar | Studio Time / Opt. local artists studio visits |
| Sunday | 18-Mar | Studios open, no staff - Rest and Studio Time |
| Monday | 19-Mar | Chefchaouen trip / Round Table / Exploring |
| Tuesday | 20-Mar | Chefchaouen trip / Exploring / Seaside Lunch / Return to Tetouan |
| Wednesday | 21-Mar | Studio Time |
| Thursday | 22-Mar | Studio Time |
| Friday | 23-Mar | Volunteers available / Studio Time |
| Saturday | 24-Mar | Studio Time / Opt. Art Museum visit |
| Sunday | 25-Mar | Studios open, no staff - Rest and Studio Time |
| Monday | 26-Mar | Studio Time / Round Table |
| Tuesday | 27-Mar | Studio Time / Opt. Ethnography & Archeology Museum visits |
| Wednesday | 28-Mar | Studio Time |
| Thursday | 29-Mar | Studio Time / Opt. Kasbah at sunset |
| Friday | 30-Mar | Studio Time |
| Saturday | 31-Mar | Studio Time |
| Sunday | 1-Apr | Studios open, no staff - Rest and Studio Time |
| Monday | 2-Apr | Studio Time / Open Studios Night |
| Tuesday | 3-Apr | Studio Time / Farewell Lunch |
| Wednesday | 4-Apr | Departures |
PROGRAM DESCRIPTION
OPENING SESSION, ORIENTATION & WELCOME LUNCH
CONVERGENCE 2018 begins! We are looking forward to this first day of getting to know each other, becoming oriented to the studios and community, and gathering for this first of many meals together!
ARTISANS OF TETOUAN TOUR
The hand crafts of Morocco are an ancient and endangered art, and we want to see these craftsmen and women flourish in their work and be honored for their skill.   Tetouan has its own artisans producing work unique to this region in its style and quality, and this tour takes you into a number of their workshops, as well as Dar Sanaa, the Royal Artisan School of Tetouan and the local artisan co-op. You will have the opportunity to interact with the artisans, ask them questions and watch them work.
MEDINA TOUR
Explore the streets of the ancient walled city (medina) of Tetouan – a UNCESCO World Heritage site and one of the most well preserved and beautiful medinas in the country.  The medina is situated on a mountainside above the Mediterranean Sea and its art and architecture reveal clear Andalusian influence. As we walk through the foot-traffic-only cobblestone pathways, you'll see the old fountains, schools, mosques, public ovens and baths that characterize every neighborhood. Tetouan is an authentic, lived-in, ancient city with children playing, old men gathered sipping mint tea, local produce markets lining the streets and artisan workshops buzzing with activity.
CONVERGENCE ROUND TABLES
These times of facilitated dialogue will give you the opportunity  to gather as a group and process the theme, your experiences, and the work you're creating. We have scheduled three Round Tables for the month, but we also know that many informal discussions will be happening during meals, in the studios, and in the evenings as you spend time with one another.
MOROCCAN ARABIC LESSONS
There is nothing like learning a few basic phrases and words to help you connect with the local culture in a deeper way, and it really means a lot to the people of Tetouan when they hear you use their language. So we have set up a couple of 1-hour language lessons for anyone willing to dive in and learn a bit. The lessons will be based on the language guide at the back of the Resource Booklet (which is available  as a PDF on the CONVERGENCE Artist Resources page, and which you will receive in printed form when you arrive).
OUTINGS WITH VOLUNTEERS
We will have two scheduled days when our English speaking Moroccan volunteers will be available to help you with any projects, outings or errands you want to do while you are here in Tetouan. They are eager to be a part of this residency program and see it as an excellent opportunity to build cultural bridges. Many of our volunteers are also open to creative collaboration back in the studio. Some are students at the university level at the National Institute of Fine Arts here in town and others are students in other university programs but love art. Some have expressed an interest in being "on-call" for any general help needs. This is part of the relational CONVERGENCE that makes this residency exciting!
ARTISTS COUSCOUS LUNCH
Moroccan cultural tradition has families and friends eating couscous together every Friday after prayers. It means enjoying a common dish of seasoned vegetables and meat piled on a mountain of couscous, with a special savory-sweet topping… and sitting back with mint tea and cookies to tell stories and recount the blessings of the week. During CONVERGENCE, we will be hosting an Artists Couscous at a local restaurant and inviting the many artists of Tetouan, so you will have the opportunity to meet, get to know each other, and connect about the art you each are creating.
CHEFCHAOUEN TRIP
We'll spend two days and one night in the city they call "The Blue Pearl", exploring the artisan workshops and markets and drawing/photographing the storybook stairways and alleys of Chefchaouen. Founded by the Portuguese and subsequently ruled by the famous Moroccan pirate queen Sida Houria in the 16th century, this wonderful mountainside town is fed by a spring, and famous for its blue doors and walls. We'll be staying at Dar Meziana and Casa Perleta and eating out in the medina restaurants. Our drive back to Tetouan will take us through the gorges, waterfalls and river valley villages… and we'll enjoy a delicious seafood lunch on the Mediterranean beach of Azla.
Dar Meziana – http://www.riadmeziana.com/english/
Casa Perleta – http://www.casaperleta.com/en/
OPTIONAL ACTIVITIES
We value your time to focus on your work, so some of the activities in the schedule are purely optional, and you can choose to participate in them or not, based on your interests and creative goals. You may join us to visit the local Museum of Contemporary Art, the Ethnography Museum and/or the Archeology Museum. We've planned a hike up to the Kasbah, the fortress wall above the medina, to watch the sun set over Tetouan, and you will have the option to join in on a visit to the studios of some local Tetouani artists. Any who are interested are welcome to join the Sacred Geometry Lesson, an introduction to drawing the patterns used by the artisans in their work, taught by a young wood carver who is a master at the art of these designs. And finally, you will have to option to participate in a Moroccan Calligraphy Lesson and learn from a master how to write words in Arabic with the calligraphy style unique to this region.
OPEN STUDIOS EVENT
CONVERGENCE 2018 will culminate with a grand Open Studios Event on April 2nd, to which the whole community and local artists will be invited. They will have the opportunity to see your works-in-progress and interact with you in your space. In the past, some artists prepared their studio space like a mini-exhibition, while others had materials and tools out, working on a piece during the event, so that visitors could see their process. Either way you choose to do it, you will find this event to be a highlight of your residency!
FAREWELL LUNCH
The month is going to fly by quickly, and before you know it, we'll be sitting down to the last meal together, recounting the adventures of CONVERGENCE 2018 with stories and observations. We are in no hurry to get to this meal, but we promise it will be both delicious and memorable.