Green Olive

Arts

announces a unique art residency
Note: Application has been reopened … A space has become available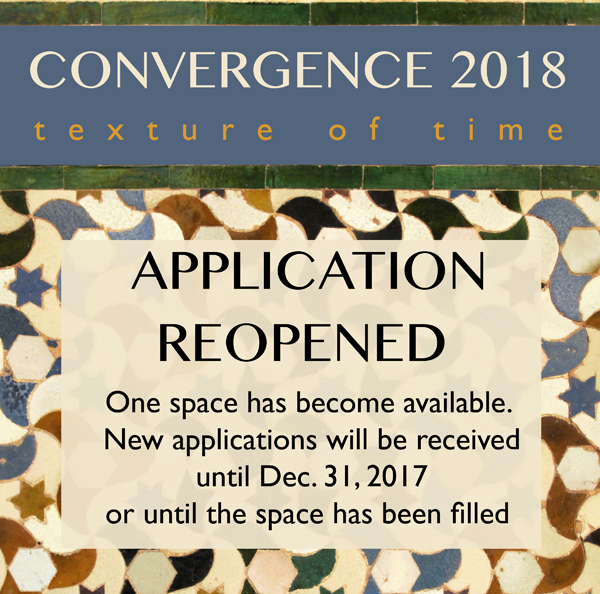 What vision will you share … out of your creative sensitivity to that grittiness, that warmth, that fibrous, palpable passing of bright and mysterious moments where you walk as an artist in a new place?
Con·vergence – kənˈvərjens – (n.)  1. the coming together from different directions so as eventually to meet. 2. a gradual change that results in things or people becoming similar or developing something in common.

Green Olive Arts' annual CONVERGENCE Residency invites artists from a broad spectrum of creative practices and cultural backgrounds to a season of shared research, production and immersion in the textured landscape of an ancient city.
Dates:   March 8 to April 4, 2018
Note: Application has been reopened … A space has become available

APPLY NOW FOR CONVERGENCE 2018
In the application process, each artist is encouraged to submit a unique proposal based on the theme of "Convergence: Texture of Time" as a starting point for new works influenced by this season of creative community and context. The theme is intended to inspire and encourage dialogue, rather than be prescriptive or demanding.
In Tetouan – Artists in residence will live in common housing, enjoy meals together, share work spaces and engage in dialogue over 4 weeks with each other and other local artists in Tetouan. They will be immersed in experiences aimed at informing their creative practice and offering insight into Tetouan's fabric of life and art. Participants will also have exclusive access to the resources of Green Olive Arts' 10-room art studio facilities, library, and artist staff for support and execution of their creative proposal throughout the month of March.
Cost:  42,000 Moroccan Dirhams …(approx. $4300 USD)
Residency Includes:
Airport transfers and all related ground transport
27 nights shared housing** in unique local riads (traditional homes restored into B&B hotels) in the ancient Medina.
2 meals a day***, sampling the range of Moroccan cuisine … along with plenty of mint tea
half-day 

Artisans

of Tetouan tour
Shared studio space, furniture and tools, to process and develop new works inspired by your experiences
Interactive round tables to stir creativity and invite new perspectives
Connections and networking with the local community
Outings to the beautiful mountain village of Chefchaouen and the Mediterranean fishing town of Azla
The on-site assistance and program coordination of Green Olive Arts staff, artists and interns
An open studios/exhibition event to provide dialogue with the local community and display works in progress by both the artist & the artisan.
Important Notes:
Green Olive Arts holds a broad definition of "artist" to include many types of creative production – this particular residency may appeal to those who work in painting, drawing, mixed media, writing, textile arts, sculpture, design, photography, video, installation art, and many other forms.
Participants are responsible for their own airfare to/from Tanger (TNG) or Tetouan (TTU), Morocco
Arrival date: March 8, 2018
Departure date: April 4, 2018
To be eligible for consideration, applicants must submit the online application form,

CV

,

portfolio

of recent works,

artist statement

, 

application fee

and complete an

interview

… Incomplete applications will not be considered.
A non-refundable 200 Dirham ($20 USD) application fee is due upon application, and can be paid by clicking the secure  "Pay Application Fee" button below, or by following the link at the end of the application.
APPLY NOW FOR CONVERGENCE 2018
Although one of the smallest of the Moroccan medinas, Tétouan is unquestionably the most complete and it has been largely untouched by subsequent outside influences.  -UNESCO World Heritage Sites description
The experience that I gained in the residency was a widening of my cultural horizon, an influential and positive exchange with people of different backgrounds, beliefs and habits and acquiring new knowledge regarding my art. I am glad to have had this experience.  –  Convergence 2017 participant
For me, GOA was a home away from home. An artist essentially requires a constant creative and inspirational stimulus, rich cultural influences, encouraging environment and entourages, healthy excursions, intellectual interactions and delectable food every day! GOA provided us with an 

abundance

of everything mentioned above. It was an experience of a lifetime. – Alinah Akbar (Pakistan) Convergence 2016
Green Olive Arts is an extraordinary and innovative community-minded Arts Organisation. I believe their work and its approach is unprecedented and will change lives!
– Niccy Pallant (Australia) Convergence 2017