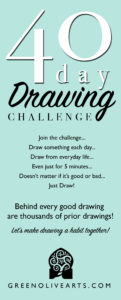 I'm sure all of us who draw wish we could draw better.  But that won't happen overnight or without putting in the work!

I want to see the change in my work, that can only come from daily putting in the time to draw. I usually have good intentions and resolve to sketch regularly, but that often gets pushed out of my schedule by other higher priority tasks, or forgotten because I didn't make a plan to do it. And so the habit of drawing never forms. I know it's going to take a commitment of coming to my sketchbook everyday to make it happen. Research shows that it takes, on average, more than two months before a new behavior becomes automatic.
On October 15th I begin my own month of art residency here in our studios, working on my new mixed media series. But I'm planning to start sooner, by beginning to draw daily, and I decided to share this challenge with you all and invite you to join me! Building new disciplines is always so much more successful when we do it in community, with others who are doing the same and spurring us on. 40 days may or may not be long enough to form a habit of daily drawing, but it will definitely be a start and it's a manageable goal!
The challenge will start this Monday, October 2, 2017!
Join the challenge…
You can join the 40 Day Drawing Challenge Facebook group I've created and share it with your friends! Feel free to post pictures of your drawings to this group. Let's encourage each other as we take on this challenge together! If you've happened upon this challenge after we've already started, just jump right in and join us… you can keep going after it ends to complete your 40 days!

Draw something each day…
It will be the daily repetition that helps us gain the benefits of this challenge! Keep your sketchbook with you and make use of times when you would normally be idle – waiting in line, riding the bus, etc. Our days are full of moments when we could draw, if we had the idea of doing so on our radar. If you fall behind, just pick up your sketchbook and draw the next day! There's no legalism here! The challenges I've given myself in the past have been the most successful when I don't view them as a competition I might fail, but approach them with grace and encourage myself to get up and keep going when I fall!

Draw from everyday life…
I've really enjoyed reading SKETCH! by France Van Stone (We've got it here in the Green Olive Arts library if you want to come by and peruse it – and her website is a great source of inspiration!) She will often empty her purse and draw it's contents. She contends that the greatest source of inspiration for our drawings is everyday life. "When you draw, you gain an awareness of what's in front of you as you are visually grasping it… As adults, we have trained ourselves to disregard the landscape around us in order to keep a certain focus… This capacity to ignore in order to focus can also be regarded as the ability to stop wondering. A four year old child marvels at everything… because [he] hasn't yet had to rank the things that matter versus those that don't, as adults do…. Getting out a pen and paper to draw what is familiar around us is like shining a big spotlight on what we had grown to ignore. It turns the visible into the new and, dare I say, beautiful. The act of drawing brings everything back into focus."

Even just for 5 minutes…
Don't let the seeming need for time discourage you from drawing every day. It doesn't have to be a 3 hour drawing! In fact, for the purposes of building a habit, a long drawing session will likely backfire and discourage you from drawing the next day because you just don't have time! Just pick something in front of you and draw it quickly and then move on to the next thing in your day. You will be far more likely to come back to your sketchbook tomorrow! Of course, not all your drawings during this challenge have to be quick sketches – feel free to spend whatever time you have on this. Just remember, the goal is daily drawing, and letting the repeated mark-making build our skill.
Doesn't matter if it's good or bad…
Remember, the quantity, not the quality, built up over time, is what will change the quality of our work! I am such a perfectionist, so I know this will be good for me and will help me to loosen up and enjoy coming back again and again to my sketchbook!
Just Draw!
Will you join me for this 40 day challenge?