Green Olive Arts souhaite partager avec vous l'opportunité d'emploi suivante de Cora Stryker, un auteur de livres pour enfants:
(English translation below)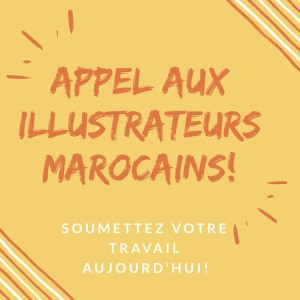 Salutations! Je commence une organisation à but non lucratif qui
produira des livres pour enfants qui racontera des histoires de filles dans le monde en développement qui cherchent à ameliorer leurs vies. La mission de l'organisation est d'éduquer les jeunes lecteurs du premier monde et de recueillir des fonds pour les organismes sans but lucratif qui servent les filles représentées dans nos livres. Notre première histoire est établie dans les montagnes du Haut Atlas du Maroc, basée sur des histoires vraies d'innombrables filles qui ont reçu une formation par l'éducation sans but lucratif pour tous. J'essaie de trouver un illustrateur capable de capturer l'atmosphère des montagnes du Haut Atlas et de la ville d'Asni, et qui peut concevoir des illustrations qui attiront des enfants de 1 à 5 ans. Le livre nécessitera 12 illustrations + une couverture.
Si vous êtes intéressé, veuillez remplir le formulaire en ligne ici.
Alternativement, envoyez votre portefeuille à cora.stryker@gmail.com. Si j'aime votre portefeuille, je vous demanderai d'illustrer l'une des pages ou la couverture pour me donner une idée de votre travail sur ce projet.
Enfin, j'aimerais vous donner le texte du livre. C'est le droit d'auteur 2017 Cora Stryker, mais j'espère qu'il vous donnera un sens du projet et si le style vous conviendrait.
Nous espérons engager un illustrateur marocain pour donner vie à cette histoire – nous sommes impatients de voir votre travail!
Cordialement,
Cora Stryker
Directeur exécutif, Arusha Books
Haut dans les montagnes du Haut Atlas, par Cora Stryker, copyright Cora Stryker 2017
Page 1: Zahra est 2-5, elle comprend des arbres, des oiseaux et des animaux tels que des mules, des moutons, des vaches, des ânes (gros, marron, à la fourrure), des chèvres et peut-être un petit jardin. Montrez à Zahra avec sa famille: un père, un frère et une mère. La mère regarde sa fille tendrement.
Presque toutes les pages de ce livre devraient inclure au moins un animal, idéalement plus.
Haut dans les montagnes du Haut Atlas
Au bord d'un affleurement rocheux,
Il y avait une fille qui aimait apprendre
Et n'a pas voulu s'arrêter.
Page 2: Zahra est 2-5; L'illustration montre qu'elle se renseigne sur le monde qui l'entoure, en tournant les roches pour regarder les insectes en dessous, etc. Sa mère est en arrière-plan, regardant fièrement et tendrement quand elle aide dans les corvées (nettoyage, cuisson au feu, traire les chèvres et les vaches).
Zahra était une fille déterminée
Dont les yeux étaient sombres et brillants.
Les anciens du village ont déclaré
Qu'ils donnaient leur propre lumière.
Elle a étudié toutes choses, grandes et petites.
Elle a tourné les rochers pour regarder les insectes ramper.
Page 3: Zahra est 2-5. Zahra est assise sur les genoux de sa mère car la mère de Zahra apprend à Zahra d'aimer les livres, même si elle ne peut pas lire elle-même. De nouveau, la tendresse de la mère est évidente, et Zahra est heureuse. Peut-être, il y a un chat quelque part dans l'image.
La nuit, elle s'est assise sur les genoux de sa mère
Avec un livre qu'elles ne pouvaient pas lire.
Ils ont tourné chaque page pendant que le feu a flambé
Pendant qu'elles inventaient des histoires de terroirs lointains
Où les filles allaient à l'école et apprenaient chaque jour.
Page 4: Zahra a 12 ans. Zahra devient une jeune femme. Pour la première fois, elle porte le voile, et il est évident aux lecteurs qu'elle est beaucoup plus agée que dans la page précédente. L'image devrait montrer Zahra et à sa mère qui s'occupent des corvées(cuire du pain, nettoyer la maison, traire des chèvres et des vaches). De nouveau, sa mère regarde Zahra avec tendresse. De nouveau, il y a un chat quelque part.
Certes, Zahra est allé à l'école primaire,
Mais peu de filles qu'elle connaissait sont allées au-delà.
Alors, quand elle a eu ses douze ans, elle est restée avec sa mère
Pour nettoyer, traire et cuire toute la journée.
"Je suis comme un oiseau sans ailes", dit sa mère
En balayant le sable de la maison chaque jour.
"Ma chère fille Zahra, je veux que tu voles.
Ce ne sera pas facile, mais je veux que tu essaies. "
Page 5: Zahra a 12 ans. Asmae est venue au village de Zahra; Elle est habillée différemment, surement d'un monde différent, mais elle porte toujours le voile et est habillée de façon conservatrice. Elles se rencontrent dehors, et il y a une chèvre, une vache ou un âne dans quelque part dans l'image.
Un jour, Zahra rencontrait une femme, Asmae.
Elle était grande et avait l'air de savoir quoi dire.
Ses yeux étaient profonds, sombres et brillants.
Et à Zahra, ils semblaient donner leur propre lumière.
Page 6: Zahra a 12 ans; Asmae regarde Zahra lire des livres à haute voix dans la maison de Zahra. Il y a un chat quelque part dans la photo.
Asmae était directrice d'une école en ville
Et elle cherchait les filles les plus courageuses.
La voix de Zahra tremblait et sa gorge se serrait
Alors qu'elle lisait six livres en arabe et en français.
Page 7: Zahra est 12. Inclure les oiseaux dans l'image, une aube scintillante et d'autres filles dans le bus.
Un matin, Zahra montait dans un bus.
Il était sombre dehors et le village était silencieux.
Les pinsons murmuraient et les corbeaux chantaient
Comme le bus tournait sur la route dans la montagne escarpée.
Le bus ouvrait ses portes sous l'aube scintillante
Et d'autres filles courageuses quittaient leurs villes et montaient à bord.
Page 8: Zahra a 12 ans. Une scène d'Asni, au Maroc. Inclure des ânes et des chats sauvages.
Les voitures passaient des ânes sur la route
Alors que le bus arrivait à Asni.
Des magasins brillants se trouvaient dans chaque rue,
Et dedans, il y avait des hommes qui buvaient du thé.
Page 9: Zahra a 12 ans. Une scène de "Dar Asni", une école à Asni, au Maroc, aux contreforts des montagnes de l'Atlas.
En banlieue de la ville, dans la vallée de la montagne,
Se trouvait une école appelée "Dar Asni"
Où les filles ont faisaient de la mathématique, et les filles jouaient de la corde à sauter,
Et les filles lisent le français à l'ombre du coteau
Page 10: Zahra a 12 ans. Une image de Zahra en pleine réuissite à Dar Asni.
Maintenant, Zahra croit qu'elle n'est plus obligée d'attendre
Pour une nouvelle Asmae à déterminer son destin.
Elle sera sa propre marraine féerique, décide-t-elle.
Elle suivra la voix silencieuse et petite à elle-même.
Page 11: Zahra a 12 ans. Une photo du voyage du bus, ou de la maison de Zahra dans les montagnes du Haut Atlas. Si cette dernière, sa mère la regarde avec tendresse.
Maintenant, Zahra monte un bus tous les samedi
En passant les ruisseaux desséchés et ne montant la pente raide,
Jusqu'à la maison dans les montagnes du Haut Atlas
Là où sa famille l'accueille,
Et sa mère balaie le sable hors de la maison,
Et le vent le retourne au foyer.
Page 12: Zahra est 12. Dans l'illustration, indiquez clairement que le livre que Zahra lit est appelé Cendrillon.
Zahra ouvre un livre et regarde autour de la pièce.
Sa mère sourit et dépose son balai.
Elle embrasse sa fille, lorsque ses yeux bordent de rires,
Et dit: "Tu es mon vivre heureux jusqu'au fin du temps …"
"Tu es jeune, mais tu as fait tellement de choses.
Ma chérie, Zahra, tu as cultivée des ailes pour nous deux.
Call for Moroccan Illustrators!
Greetings! I am starting a nonprofit that will produce children's books which will tell the stories of girls in the developing world who are striving for better lives. The mission of the organization is to educate first world young readers, and raise money for the nonprofits that serve the girls depicted in our books. Our first story is set in the High Atlas Mountains of Morocco, based on the true stories of countless girls who have been provided an education by the nonprofit "Education for All." I am trying to find an illustrator who can capture the atmosphere of the High Atlas Mountains and the town of Asni, and who can design illustrations that appeal to children 1-5 years old. The book will require 12 illustrations + a cover.
Please send your portfolio to cora.stryker@gmail.com. If I like your portfolio, I will ask you to illustrate one of the pages or the cover to give me a sense of what your work on this project will look like.
Finally, I would like to give you the text of the book. It is copyright 2017 Cora Stryker, but hopefully it will give you a sense of the project and whether you would be a good fit.
We are hoping to hire a Moroccan illustrator to bring this story to life — we look forward to seeing your work!
Warmly,
Cora Stryker
Executive Director, Arusha Books
High in the High Atlas Mountains, by Cora Stryker, copyright Cora Stryker 2017
Page 1: Zahra is 2-5 include trees, birds, and animals such as mules, sheep, cows, donkeys (large, brown, furry), goats, and perhaps a small garden. Show Zahra with her family: a father, a brother, and a mother. The mother is looking over at her daughter with love.
Almost every page of this book should include at least one animal, ideally more.
High in the High Atlas mountains
at the edge of a rocky outcrop,
there lived a girl who loved to learn
and did not want to stop.
Page 2: Zahra is 2-5; illustration shows her investigating the world around her, turning over rocks to look at the bugs underneath etc. Her mother is in the background, looking proudly and lovingly on as she attends to her domestic duties (cleaning, baking over a fire, milking the goats and cows).
Zahra was a determined girl
Whose eyes were dark and bright.
The elders in the village said
They gave off their own light.
She studied all things, large and small.
She turned over rocks to watch the bugs crawl.
Page 3: Zahra is 2-5. Zahra is sitting on her mother's lap as Zahra's mother teaches Zahra to love books, even though she herself cannot read. Again, mother's love is evident, and Zahra is happy. Perhaps, there is a cat in the picture somewhere.
At night she sat on her mother's lap
With a book they could not read.
They turned each page as the fire blazed
As they made up tales of lands far away
Where girls went to school and learned every day.
Page 4: Zahra is 12. Zahra is becoming a young woman. For the first time, she wears the veil, and it should be clear to readers that she is much older than the last page. The picture should show Zahra and her mother attending to household duties (baking bread, cleaning the house, milking the goats and cows). Once again, her mother is looking at Zahra with love. Again, there is a cat somewhere.
Now, Zahra did go to primary school,
But few girls she knew went on.
So when she turned twelve she stayed with her mom
To clean, milk, and bake all day long.
"I'm a bird without wings," her mother would say
While sweeping the sand from the house each day.
"My dearest girl Zahra, I want you to fly.
It won't be easy, but I want you to try."
Page 5: Zahra is 12. Asmae has come to Zahra's village; she is dressed differently, clearly from a different world, though she still wears the veil and is conservatively dressed. They meet outside, and there is a goat, cow or donkey in the picture somewhere.
One day Zahra met a woman, Asmae.
She was tall and seemed to know what to say.
Her eyes were deep, dark and bright,
And to Zahra they seemed to give off their own light.
Page 6: Zahra is 12; Asmae is watching Zahra read books aloud in Zahra's home. There is a cat somewhere in the picture.
Asmae was head of a school in town
And she was looking for the bravest girls around.
Zahra's voice trembled and her throat clenched
as she read six books in Arabic and French.
Page 7: Zahra is 12. Include birds in the picture, a shimmering dawn, and other girls on the bus.
One morning, Zahra boarded a bus.
It was dark outside and the village was hushed.
The finches whispered and the crows crowed
as the bus took a turn down the steep mountain road.
The bus opened its doors under the shimmering dawn
and other brave girls left their towns and got on.
Page 8: Zahra is 12. A scene of Asni, Morocco. Include donkeys and streetcats.
Cars passed donkeys on the road
As the bus arrived in Asni.
Glittering shops were on each street,
And inside, there were men drinking tea.
Page 9: Zahra is 12. A scene of "Dar Asni," a school in Asni, Morocco, in the foothills of the Atlas Mountains.
At the edge of town, in the mountain's lee,
Stood a school called "Dar Asni"
Where girls did math, and girls jumped rope,
and girls read French in the shade of the slope.
Page 10: Zahra is 12. A picture of Zahra thriving at Dar Asni.
Now Zahra believes she will not have to wait
For another Asmae to determine her fate.
She will be her own fairy godmother, she decides.
She will follow the still, small voice inside.
Page 11: Zahra is 12. A picture of the bus' journey, or of Zahra's home in the High Atlas Mountains. If the latter, her mother is looking at her with love.
Now Zahra rides a bus each Saturday
Past the dried-out streams and up the steep mountain way,
To the house in the High Atlas Mountains
Where her family welcomes her in,
and her mother sweeps sand out of the house,
And the wind blows the sand back in.
Page 12: Zahra is 12. In the illustration, make it clear the book Zahra is reading is called Cinderella.
Zahra opens a book and looks round the room.
Her mother smiles and sets down her broom.
She embraces her daughter, as her eyes brim with laughter,
And says, "You are my happily ever after…"
"You are young, but you've done so many things.
My darling girl Zahra, you've grown both of our wings."