Plein Air Morocco 2014 was a great idea … and Plein Air Morocco 2015 is shaping up to be even better! Hard to imagine when you see the results …
Nearly 30 paintings in 12 days … and still more to come from the easels of participants Zora Buchanan, Sook Chang, Jeff McRobbie and instructor, Sam Paonessa.
Between rich instructional times back at the studios of Green Olive Arts and the brief on-site demonstrations, everyone could speak of improvement in technique and results.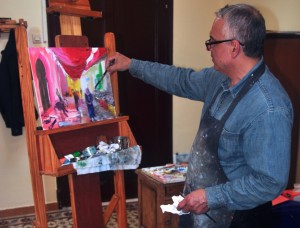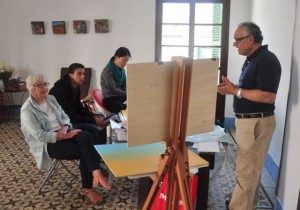 It is so helpful to have someone helping you see the possibilities of color and mark when you are really wanting to grow as a painter of landscapes.
Sam's gentle but experienced input during the outings was a welcome encouragement. Thanks Sam!
Outings into the labyrinthine medina, Tetouan's ancient walled city, up into the mountains, out to the beach and even various rooftops overwhelmed us with amazing views and choices of subject matter.
A weekend in Chefchaouen's mystical blue medina inspired yet another whole set of paintings and was certainly a highlight for all.
An exhibition back at Green Olive Arts marked the studio's very first exhibition of paintings by professional artists and was enjoyed by many.

See you in Tetouan in 2015